Request of phenotyping
An agreement about rights and duties for phenotypic analysis data from your requested mice sources will have to be signed before the performance of Japan Mouse Clinic.   Deposition or assignment of mice sources to RIKEN BRC requires another agreement.
Workflow from request of phenotyping to report of the results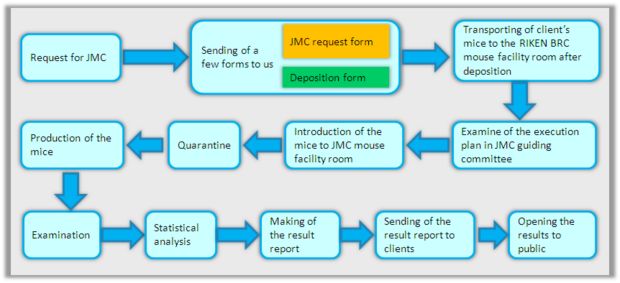 Please download and fill in a few forms depending on situation of deposition, and send them to the following adress
3-1-1 Koyadai, Tsukuba, Ibaraki, 305-0074, Japan
BioResource Center "Japan Mouse Clinic"
Fax: +81-29-836-9017
Mail:mouseclinic@brc.riken.jp

Please contact us if you have a question about documents
Please contact to the ' RIKEN BRC experimental animal division', if you have a question about documents for deposition or assignment of mice sources to BRC
(Mail:animal@brc.riken.jp)
→ Home page of BRC experimental animal division(https://www.brc.riken.jp/lab/animal/)
Titles
Download files
Situation of deposition to BRC
completed
deposition
No deposition
Examination request form

Request
○
○
○
"Japan Mouse Clinic" agreement

MTA
○
○
○
Mouse source information

Mouse info
-
-
○
1. Request of examinations in JMC phenotyping pipelines
Pipeline 1 are designated to the comprehensive areas. This pipeline has composed by "Fundamental screen" and secondary "In depth screen". "Fundamental screen" is a package including the early (7-11 weeks old) 5 examination and pathology at 26 weeks old. Any examinations of "In depth screen" could be added.
Pipeline 2 are designed as a set of behavior oriented screens. In the pipeline, behavioral tests are sequenced to reduce the effects of prior experiences independent from the pipeline 1.
The detailed information of the phenotyping examinations is shown the page of the "Phenotyping pipelines".
2. Introduction and production of mice
Introduction is performed by IVF (in vitro fertilization) using fresh or cryopreserved sperm or cryopreserved embryo, because . After microbial monitoring, mice should be permitted to enter the SPF area, because we perform comprehensive phenotyping under the SPF in order to gain reproducible phenotyping results in a same condition. Screened mice will be produced after a few generations.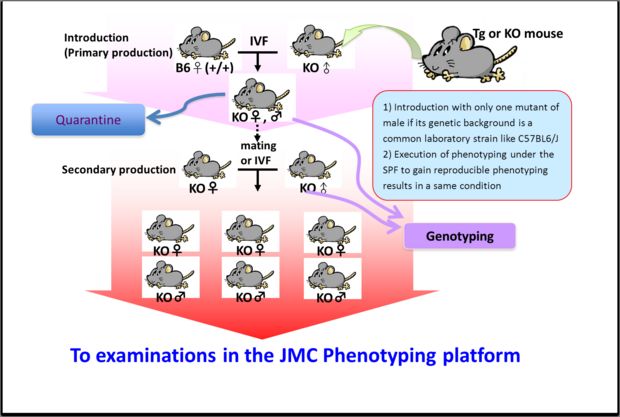 3.Report of phenotyping result to clients
After the completion of all examinations, we start the analysis of the results. The analyzed results and raw data are sent by E-mail. The contents can see by browsing applications in a client's PC.
About the details of the browsing displays, please refer to the page of "Pheno-Pub: Phenotype information database".